It's what's on the inside that counts, so use these positive words to describe personality or a person's character to paint a positive picture of someone important! These aren't simply
positive words to describe someone
, but rather this article contains a list of positive words to describe a person's character or inner traits, as opposed to their external appearance. Some of the most effective praise and compliments are those that get to the core of who someone is, positive words that describe personality characteristics. In other words, those that describe the that which counts the most. Included below are positive personality adjectives and adverbs that will allow you to paint anyone in a very positive and beneficial light and allow you to highlight that which makes them truly amazing, unique and wonderful. Be good, be nice and be positive with these positive words to describe someone's personality!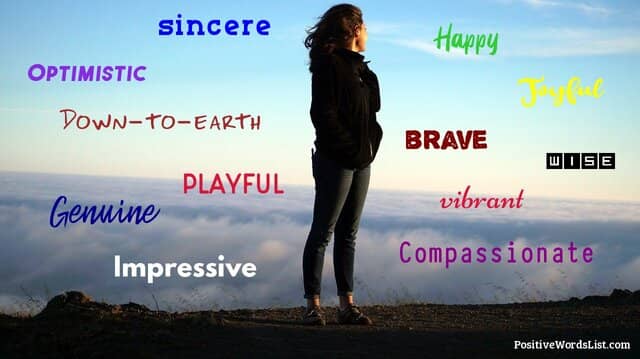 Positive Words to Describe Personality
A
Able
Achiever
Adaptable
Admirable
Adorable
Adventurous
Affable
Affectionate
Agile
Agreeable
Altruistic
Amazing
Ambitious
Amiable
Amusing
Angelic
Appreciative
Articulate
Astonishing
Astounding
Attentive
Authentic
B
Balanced
Bashful
Beautiful
Beauty
Believe
Beloved
Benevolent
Big-hearted
Bold
Bonafide
Brainy
Brave
Bright
Brilliant
Bubbly
C
Calm
Capable
Carefree
Careful
Caring
Centered
Charitable
Charming
Cheerful
Classy
Clever
Compassionate
Confident
Conscientious
Considerate
Content
Courageous
Courteous
Creative
Credible
Cunning
D
Daring
Dashing
Debonair
Decisive
Dedicated
Delightful
Dependable
Determined
Devoted
Diligent
Disciplined
Down-to-earth
Dreamy
E
Eager
Earnest
Efficient
Empathetic
Endearing
Energetic
Engaging
Enthralling
Exceptional
Exemplary
Extraordinary
Exuberant
F
Faithful
Faultless
Fearless
Fierce
Flawless
Forgiving
Frank
Flexible
Friendly
Fun
G
Gay
Generous
Genial
Gentle
Gentleman
Genuine
Gifted
Giving
Gleeful
Godlike
Good-hearted
Graceful
Gracious
Grateful
Gregarious
Grounded
Gutsy
H
Happy
Hard Working
Helpful
Hilarious
Honest
Honorable
Humble
Humorous
I
Imaginative
Industrious
Influential
Innocent
Innovative
Inspirational
Inspiring
Intelligent
Intuitive
Inventive
Irresistible
J
Jocose
Jocund
Joker
Jolly
Jovial
JJoyful
Jubilant
K
Keen
Kickass
Kind
Kind-hearted
Knowledgeable
L
Laid-back
Likable
Lovable
Lovely
Loving
Loyal
M
Mench
Merry
Meticulous
Mindful
Modest
Motivated
Munificence
N
Neat
Neighborly
Nice
Nifty
Nimble
O
Obedient
Obliging
Optimistic
Outspoken
Outstanding
Overachiever
P
Passionate
Patient
Peaceful
Persistent
Personable
Pious
Playful
Pleasant
Polished
Polite
Posh
Positive
Powerful
Practical
Praiseworthy
Precious
Preeminent
Prudent
Punctual
Q
Queenly
Quick-witted
Quiet
R
Rad
Rambunctious
Real
Reassuring
Relaxed
Reliable
Reputable
Resilient
Resourceful
Respectable
Respected
Resplendent
Responsible
Reverent
Righteous
Right-minded
Romantic
S
Sagacious
Sagely
Saintly
Sassy
Savvy
Sedulous
Self-assured
Selfless
Sensational
Sensible
Sensitive
Sensual
Serene
Sexy
Sharp
Sincere
Skilled
Sophisticated
Spirited
Spontaneous
Smart
Stable
Standout
Straightforward
Striking
Strong
Studious
Stupendous
Supportive
Sweet
Sweetheart
Sympathetic
T
Tactful
Talented
Tenacious
Tender
Thorough
Thoughtful
Tidy
Tolerant
Trailblazing
Tremendous
Trusting
Trustworthy
Truthful
U
Ultimate
Ultra
Unbeatable
Unbelievable
Unconditional
Understanding
Unique
United
Unstoppable
Uplifting
V
V.I.P
Valorous
Valuable
Valued
Vehement
Vibrant
Virtuous
Visionary
W
Warm
Warm-hearted
Well-behaved
Whimsical
Willed
Willing
Wise
Witty
Wonderful
X
X-factor
Y
Young-at -heart
Youthful
Z
Zappy
Zealous
Zest
Zestful
Zinger
Using this collection of positive words to describe personality you should be able to touch anyone with a heartfelt show of appreciation and love. Times can be hard for many people and helping to boost their self esteem by describing them with positive personality words can really help them feel better about themselves, give them more confidence and optimism. Often when we try to describe a person, we tend towards external appearances, such as their looks of things they have accomplished. And, while these are still very positive, what touches people most deeply is when you use positive words to describe characteristics of individuals, that which describes who they truly are inside and that which is more long-lasting. So please keep the world more positive and happy and share and use often these positive character words!