Welcome to our list of positive words to describe yourself! Now tell me about yourself? Can you describe yourself in one word? This is one of the most difficult questions to answer.
There are many qualities that a person has and many ways to answer this question, and it can be a challenge to sum yourself up in one word.
This list of words to describe yourself positively can be used for writing a paper at school, a resume, a post for your social media, in your presentations, a description of yourself for a job interview, in your profile or just simply looking to boost your self confidence.
A lot of times we focus our attention on the negativity and examine ourselves in contrast to other people. Identifying our best personality traits is not easy so below we have gathered the best collection of positive words to describe yourself to help you put into words which positive qualities you possess.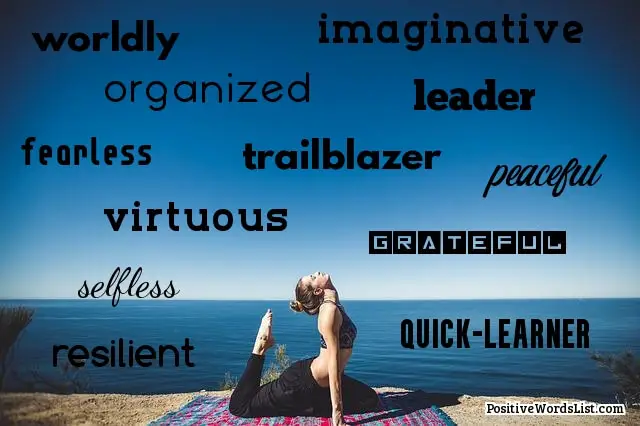 Positive Words To Describe Yourself
A
Able
Achiever
Adaptable
Adept
Adventurous
Affable
Agile
Agreeable
Altruistic
Amazing
Ambitious
Amiable
Analytical
Appreciative
Articulate
Assertive
Astonishing
Astounding
Authentic
B
Balanced
Bashful
Beautiful
Beloved
Benevolent
Bold
Bonafide
Brave
Bright
Brilliant
Bubbly
Check out our largest collection of Positive Words
C
Calm
Capable
Carefree
Careful
Caring
Charitable
Charming
Cheerful
Classy
Compassionate
Competent
Confident
Conscientious
Considerate
Constructive
Content
Courageous
Courteous
Creative
Cunning
D
Daring
Darling
Dashing
Debonair
Decisive
Dedicated
Delightful
Dependable
Detail-oriented
Determined
Devoted
Diligent
Diplomatic
Direct
Disciplined
Down-to-earth
Driven
E
Earnest
Easygoing
Educated
Eloquent
Empathetic
Endearing
Energetic
Engaging
Enthralling
Ethical
Exceptional
Exemplary
Experienced
Extraordinary
Exuberant
F
Faithful
Faultless
Fearless
Fierce
Flexible
Forgiving
Fortuitous
Friendly
Fun
Funny
G
Generous
Genial
Gentle
Gentleman
Genuine
Gifted
Giving
Gleeful
Goal-oriented
Godlike
Good-hearted
Graceful
Gracious
Grateful
Gregarious
Grounded
Gutsy
H
Happy
Hard Working
Helpful
Hilarious
Honest
Honorable
Humble
Humorous
I
Imaginative
Industrious
Influential
Innovative
Inquisitive
Insightful
Inspirational
Inspiring
Intelligent
Intuitive
Inventive
Irresistible
J
Jocose
Jocund
Jolly
Jovial
Joyful
Jubilant
Judicious
K
Keen
Kind
Kind-hearted
Knowledgeable
L
Laid-back
Leader
Learner
Level-headed
Likable
Lovable
Lovely
Loving
Loyal
M
Mature
Mench
Meticulous
Mindful
Modest
Motivated
Munificence
Neighborly
Nice
O
Obedient
Obliging
Optimistic
Organized
Outgoing
Outspoken
Outstanding
Overachiever
P
Passionate
Patient
Peaceful
Persistent
Personable
Pious
Playful
Pleasant
Polite
Positive
Powerful
Practical
Praiseworthy
Precious
Preeminent
Proactive
Prudent
Punctual
Q
Quick
Quick-learner
Quick-witted
Quiet
R
Real
Reassuring
Relaxed
Reliable
Reputable
Resilient
Resourceful
Respectful
Resplendent
Responsible
Reverent
Righteous
Right-minded
Romantic
S
Sagacious
Sagely
Saintly
Sassy
Savvy
Sedulous
Self-assured
Selfless
Sensational
Sensible
Sensitive
Sensual
Serene
Sharp
Sincere
Skilled
Sophisticated
Spirited
Spontaneous
Smart
Standout
Strong
Studious
Stupendous
Successful
Supportive
Sympathetic
T
Tactful
Talented
Tenacious
Thorough
Thoughtful
Tidy
Tolerant
Trailblazer
Tremendous
Trusting
Trustworthy
Truthful
U
Unbeatable
Unbelievable
Understanding
Unique
Unstoppable
Uplifting
V
Valorous
Valuable
Valued
Vehement
Vibrant
Virtuous
Visionary
W
Warm
Warm-hearted
Whimsical
Willed
Willing
Wise
Witty
Wonderful
Worldly
Y
Z
Zappy
Zealous
Zest
Zestful
Zinger
Now that you have seen the list above, how would you describe yourself in 3 words? If you've never asked yourself this question, then now is the time. We gathered here the best descriptive positive words to describe yourself to make it easier for you. We hope that these words have helped you to describe yourself and made you more confident in looking for your best qualities. Hopefully you've found some traits or personalities that might've been hiding deep all this time, or at least discovered a good way to express them.