Are you in need of some
positive adjectives that start with Y
? Here we have gathered commonly used positive words that start with y to describe a person, place or thing just for you. We tried to exclude very uncommon and obscure words and only included those that were truly positive in this collection. You can use these for whatever you want, such as writing a letter or poem, playing word games, trying to impress someone or just something to include in a holiday card or a birthday card. Life can be a challenge sometimes and especially during trying times we could all use some adjectives that start with y to describe a person positively to boost our mood or to make someone's else's day.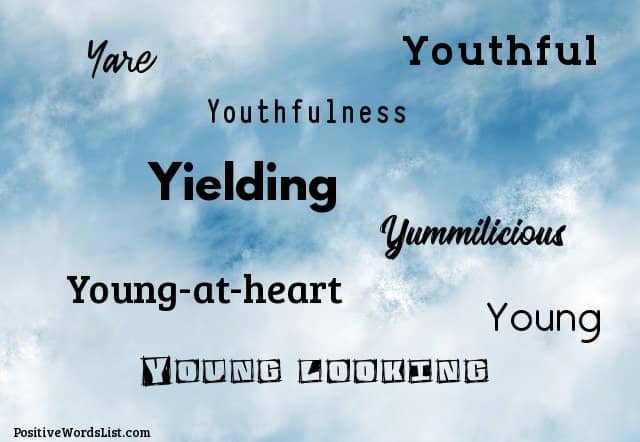 Positive Adjectives that Start With Y
Yare
Yielding
Young
Younger
Young-at-heart
Young looking
Youthful
Youthfulness
Yummilicious
Yummy
Yummy-mummy
Y, Y, Y does this humble list of positive adjectives beginning with y have to end so abruptly? There certainly aren't a ton of y words to describe someone positively to choose from. Other letters have quite a few more. But no worries, if you are looking for more positive words that start with Y we have a larger collection. These positive Y adjectives may be short but they pack a punch! Sometimes some of these words are overused for a great reason. We hope you enjoyed this list of nice words starting with y to describe someone or something and have found it useful.