Happy, healthy, hope, hero…there are plenty of
positive words that start with H
! Why do you need positivity and optimism in your life? Because you cannot fully enjoy life without having a positive perspective and outlook on the ways of living. Having a wide array of positive words in your vocabulary enables you to better color your everyday life and experiences with optimism and joy, thus creating balance and a better world to live in. And the letter H is often the first letter of many words that are positive. From greetings such as 'hi' and 'hello' to positive H words to describe someone such as harmonious, helpful, humor and humble, the letter H is certainly prominent used in the happiest of words. Here are a few positive words that start with the letter H that will brighten up your day and help you spread a bit of huggable happiness!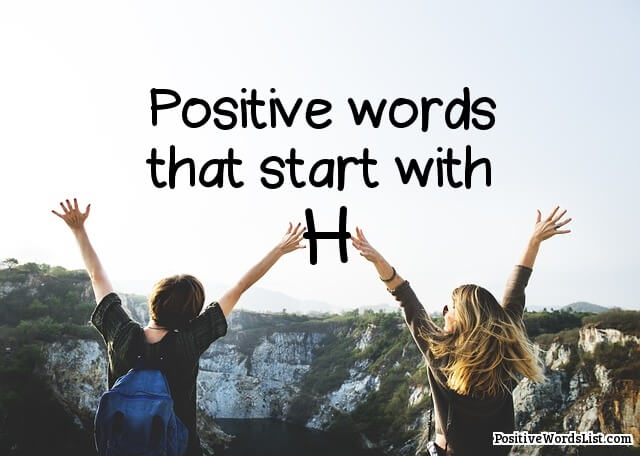 Positive Words That Start With H
Habitable
Habile
Halcyon
Hale
Hallelujah
Hallmark
Hall of Fame
Hallowed
Halo
Hands-down
Handsome
Handy
Happening
Happily
Happiness
Happy
Happy-go-lucky
Hardworking
Hardy
Harmless
Harmonic
Harmonious
Harmoniously
Harmonized
Harmony
Harness
Harvest
Harvester
Head
Have
Haven
Head-turning
Head over heels
Heed
Hottie
Hysteria
Headmaster
Headstrong
Heady
Heal
Healer
Healing
Health
Healthful
Healthy
Heart
Heartening
Heartfelt
Heartily
Hearty
Heartthrob
Heart-to-Heart
Heartwarming
Heaven
Heavenly
Heaven sent
Heavy hitter
Heavyweight
Heedful
Heighten
Height
Heiress
Heirloom
Hello
Help
Helper
Helpful
Helpfully
Helpfulness
Helping Hand
Herald
Heritage
Heritor
Hero
Heroic
Heroically
Heroine
Heroism
Hierarchy
Hi
High
Highbrow
High-caliber
High-class
High-concept
High-fashion
High-fidelity
Highflier
High-ground
Highlight
Highly recommended
High-minded
Highness
High-profile
High-quality
High-resolution
High-road
High-roller
High-spirited
High-tech
Hilarious
Hilarity
Hip
Hipster
Historic
Hit
Holiday
Holiness
Holism
Holistic
Holy
Holy Spirit
Homage
Home
Homebound
Homecoming
Homegrown
Homeland
Homely
Homemade
Homey
Hone
Honest
Honestly
Honesty
Honey
Honeyed
Honeylike
Honeymoon
Honor
Honorable
Honorably
Honorarium
Honorary
Honored
Honoree
Honorifics
Hoot
Hooray
Hope
Hopeful
Hopefully
Hopefulness
Hospitability
Hospitable
Hospitality
Host
Hot
Hotcake
Hotshot
Howdy
Hubby
Humble
Huddle
Hug
Huge
Hugely
Huggable
Hugging
Hum
Humane
Humanely
Humanhood
Humanism
Humanist
Humanistic
Humanitarian
Humanity
Humankind
Humanly
Humble
Humbling
Humility
Humongous
Humor
Humorous
Humorously
Hunk
Hunky-dory
Hurray
Husky
Huzzah
Haute-Couture
Haut Monde
Hygienic
Hype
Hyperactive
Hyperfine
Hypersonic
Hypnotic
Hysterical
We hope that you enjoyed looking through this collection of positive words that start with H to describe a person, thing, feeling and more. There are so many positive words that begin with H and this is partly because so many words are derived from Latin and Greek words related to positive ideas such as happiness and health. Filling your life with positivity begins with your thoughts, words and deeds. We hope that these positive H words are able to help you heal your home with hope and humble hugs! Please share these positive words beginning with H with those you love and care about.